NGO registration in Bangladesh- A complete guide in 2020- Everything you need to know
Tahmidur Rahman, Senior Associate, TR Barristers in Bangladesh
This post in details will explain in details about NGO and INGO registration in Bangladesh, the timeline, the concerns and types of NGOs , NGO's Affairs Bureau,  key parts of the Foreign Donations (Voluntary Activities) Regulations Act, 2016 (FDRA) Act, and the compliances to maintain with Joint Stock Companies and Firms, Department of Social Services with clear directions and infographics.
NGO's in Bangladesh
Non-governmental organizations (NGOs) play an significant role in developed countries ' economic growth. They provide services to society through community development welfare work, national disaster assistance, sustainable system development, and grassroots movements. They are taking numerable steps to improve our community.
With the record of being the most densely populated nation on earth and a poor workforce, Bangladesh faces a huge challenge to meet the demands of its ever-increasing population.
For coping with such population, Organisations are working as the foundation of society. There are several types of organizations, but under the main heading, they can be categorized into three parts:
Government organisations, 
private organizations and 
non-governmental organisations. 
NGO's have a positive outlook to the society compared to two other wings of the societal organisations. Many activists also dream of making their own NGO to improve society, but by no way build a child's play. Now, to grasp the whole premise, we will need to recognize a few things.
What is an NGO?
The Non-Governmental Organization is a legal body that is not a direct member of the government, independent of government power, and not a direct political competitor.
Generally, NGOs are set up by a group of people who aim to create a positive difference in society. They raise money from different donors around the world and try to fulfill their mission. NGOs may be of different kinds, such as zoning, state, international, etc.
The NGO was first formally visualised in Article 71 of the Charter of the United Nations, which states: 'The Economic and Social Council may make appropriate arrangements for consultation with non-governmental organisations.'
A non-governmental organization is a legal body that is not a direct part of a government, independent of government control, and not a direct political competitor.
Differences between an NGO and other organisations
In Today's world, modern organisations are very nuanced in terms of thoroughness, for example, NGOs are working with the government, and some of them are also binding.
So things blur time to time, in general, NGO's are considered to be non-profit, non-government-dependent, and to serve their specific function, but they may be a helping hand of the government, collect money, and make profit in order to fulfill their function.
They may not abide by company law or business law, but may be interested in the business as a separate agency of a related NGO. So close observation is required on both the de facto and the de jure activities of the NGO.
Thus, it can be inferred that the process of creation, the mission and the activities of an entity are the final proof that it is an NGO; that it must not be a completely viable business agency, or that it must serve the purpose of its constitution and function accordingly to the part of the government under which it operates for government purposes.
Conventional NGO programs in Bangladesh
 On the basis of funding, we can further extend the scope of NGOs, such as locally sponsored, government-funded, foreign government-supported, national and international organizations. NGOs conventionally cover a wide range of sectors.
Typical NGO and INGO programs in Bangladesh are:
BINGO: business-friendly international NGO (example: Red Cross)
ENGO: environmental NGO (Greenpeace and World Wildlife Fund)
GONGO: government-organized non-governmental organization (International Union for Conservation of Nature)
INGO: international NGO (Oxfam)
QUANGO: quasi-autonomous NGO (International Organization for Standardization [ISO])

In addition to that the other general scopes are:
Human Rights
Woman Rights
Humanitarian Situation
Health issue
Education Sectior
Responding to health crises
Environmental issues
Economic programs
Skills development
Local development
Addressing Social issues
Religious perspective ( support and help)
Research purpose
Survey and Study
If you want to know how to open a company in Bangladesh or about company formation click here!
How to register an NGO in Bangladesh?
To get an NGO or an INGO registered in Bangladesh or an organization willing to operate or obtain foreign funding for the purpose of undertaking or carrying out any voluntary operation, it is imperative that such an organization be registered with the authority concerned and comply with the Government's requirements.
According to the laws of Bangladesh, the term "voluntary activity" can be specified as "an activity undertaken or carried out by any person or organization of his or her own free will to provide agricultural, relief, missionary, educational , cultural, vocational, social, welfare and development services, and includes any activity that the Government can, from time to time, consider to be a Voluntary activity."
NGO and INGO registration in Bangladesh
Any entity whose activities fall within the ambit of the definition mentioned above needs to have it registered to carry out its operation in Bangladesh.
In order to register an International Non-Government Organization (INGO) or local based Non-Government Organization (NGO), an application needs to be filed with the concerned authority. 
The NGO Affairs Bureau (NGOAB) (which is under the Ministry of Social Welfare of Bangladesh) and the Ministry of Home Affairs shall be the relevant authorities in Bangladesh in this regard.
However, for example the Ministry of Health & Family Welfare or Ministry of Disaster Management and Relief or any other relevant authority which administers the entity's activity shall also play a vital role. 
An NGO in Bangladesh can be registered in three ways: 
A. Under NGO Affairs Bureau 
B. Under the Department of Social Services (DSS)
C. Under Joint stock companies and firms
"Tahmidur Rahman – Tahmidur Rahman Remura Parnters is Considered as one of the leading firms in NGO and Non-profit Law in Dhaka, Bangladesh"
If you want to know everything about Charitable Trust in Bangladesh
Firstly, the registration of the INGO or the NGO must be carried out by the body of the NGOAB concerned. Application in the specified form shall be made to the NGOAB along with payment of the required fee and all related documents such as operation report, letter of intent, constitution, copy of the Treasury Challenge with respect to payment of registration fees, etc.
Upon submission of the application to the NGOAB, it shall be forwarded to the Ministry of Social Security and also to the Ministry of Home Affairs for review and inspection of the documents submitted.
Upon receipt of the papers, the Ministries concerned shall nominate the Special Branch of Police and National Security Intelligence to carry out a security check on the applicant and on such a matter of inspection as clearance forwarded to the Ministry of Home Affairs, provided that the approved bodies are pleased with their enquiries.
Once the approval has been issued to the NGOAB, it shall continue with the audit and final inspection of the documents. Acted mainly under the International Donations (Voluntary Activities) Regulations Act, 2016 (FDRA); to register an NGO, certain tasks must be completed; (as stated in section 4 of the FDRA) :
FD-1 Form (signed by Chief Executive in Bangladesh) – 9 copies

Certificate of incorporation in the Country of origin – 3 copies

Constitution – 4 copies

Activities Report – 6 copies

PIan of Operation (Work/Organogram) –  4 copies

Decision of the committee/ Board to open an office in Bangladesh – 4 copies

Letter of Appointment of the Country Representative – 4 copies

Copy of Treasury challan in support of depositing 50000 Taka for local NGO and USD $ 9,000 or Equivalent TK amount for foreign NGO in the Code 1-0323-0000-1836 and 15% Vat Code No (1-1133-00 35 -0311)  – 3 copies
Deed of agreement stamp of TK.300 with the landlord in support of opening the office in Bangladesh – 3 copies

List of Executive Committee (foreign) –  4 copies

Letter of Intent – 5

Note: AII documents from abroad should be notarized by Justice of peace or attested by Bangladesh Embassy.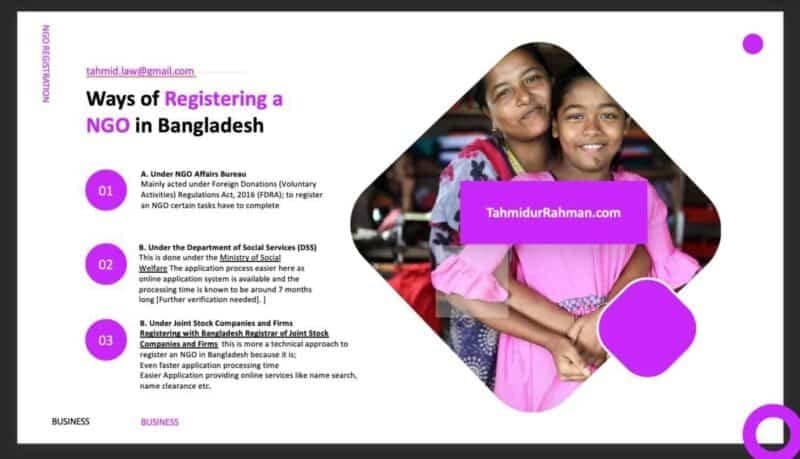 Foreign Donations (Voluntary Activities) Regulations Act, 2016 (FDRA)
As per, Foreign Donations (Voluntary Activities) Regulations Act, 2016 (FDRA), under section 2(1) and foreign donations under section 2(5) which is very important to operate an NGO in Bangladesh.
Section 3 of the Act made it necessary for NGOs to register where there is some international transaction. This act shall take precedence over all other current and relevant legislation.
Officials are to verify documents and authorize the NGO for a term of 10 years. It must be re-submitted in order to renew period 6  months before the end of the 10-year term. It placed certain barriers under section 5 to accept donations from certain individuals.

Section 6 stipulated that the appointment of International Consultant, Advisor or Officer and International Tours must be notified by the Government of their security clearance.

Section 9 for the management of the account of foreign donations, as well as for each NGO and person, shall maintain its accounts in the specified manner and prepare an annual statement of accounts; (section 12) for the approved audit firms.
Section 10 empowers the Government to carry out surveillance, monitoring and analysis of every NGO.
Under section 15 the Act said if any NGO violates this law or any law of Bangladesh the can take appropriate action against that NGO.
Registration of NGO through RJSC in Bangladesh
Registration with RJSC is a more formal approach towards registering an NGO in Bangladesh, but often deemed as more desirable because it offers:
1) Quicker response time for applications
2) Smoother application process;
First, you need to get a name clearance like a company name clearance. The next step in the process is the actual application for registration of the entity. This request must be submitted on paper along with all the necessary documentation (and the approval of the name clearance). Later, the Intelligence Department will have a check-up and send a report to RUSC. That's it.
The procedure is based on the SOCIETIES REGISTRATION ACT of 1860.
"As per, Foreign Donations (Voluntary Activities) Regulations Act, 2016 (FDRA), under section 2(1) and foreign donations under section 2(5) which is very important to operate an NGO in Bangladesh."
Frequently Asked Questions about NGO and INGOs in bangladesh
In regards to NGO registration in bangladesh people also ask these questions frequently, hence this FAQ content block is dedicated to answering your questions.
General Questions about NGO registration in bangladesh
What is the rule of a NGO?
Every NGO in Bangladesh is legally mandated to document the Memorandum of Understanding. It includes the name and address of the NGO, the mission and goals, specifics of the governing body, information on human resources and personnel, rules and regulations, administrative laws and procedures.

How many NGO's are there in Bangladesh?
3000+.
Currently, approximately 3000+ (including local and international) NGOs are registered under the legislation of Goverment of Bangladesh. A total of 240+ foreign Non-government organizations (NGO) of 30+ countries have been operational in the country
Which is the biggest NGO in Bangladesh?
Based on the number of employees, BRAC is considered as the largest NGO (non-governmental development organisation) in the world not only in Bangladesh! 
What is the model NGO guide?
United Nations Model NGO Guide. Since the founding of the United Nations, NGOs have been core members of the policy and implementation process. NGOs or non-governmental organizations are non-profit organisations focused on humanitarian, human rights and sustainable development issues around the world.
How many members there should be in my NGO?
Conventionally there shhould atelast be 7 members . There is no upper limit on the number of members of the group. These members have different designations which can be determined between them.
What is the head of an NGO called?
The Board of Directors of the NGO is at the top. The NGO Board is a legal requirement in most countries to be formally registered with local authorities. Most NGOs stipulate that membership of the Board is voluntary and non-remunerative. Board meetings shall be held closed, while written processes, reports and minutes may be made available for the purposes of accountability.
Who are considered as top managements of a NGO?
The top management of an NGO consists of three entities –
the Board of Directors,

the General Assembly, and

the Executive Director. 
Who are responsible for the day to day functioning of an NGO?
The staff members of the NGO shall be responsible for the day-to-day operation and execution of its programs and projects. They report to the Executive Director, who is ultimately responsible for the operations of the NGO. (See Figure 3) The staff members of the NGO fall into three groups-responsible for activities related to (1) management, (2) advertisement and (3) programs / projects.
How do NGO's get funding in Bangladesh?
NGOs in Bangladesh may receive, coordinate and collect funds through a variety of sources, procedures, initiatives, ventures and activities: grants through funding agencies through ventures. Grant from the International Development Agency and   Fund Raising from the Corporate Department under the CSR.
What are the differences between a NGO and a Non-profit?
The NGO is a non-governmental organisation. A non-profit organization uses the excess funds for the benefit of the organization, rather than splitting them between the members and the owners of the company. Examples of NPOs are performing arts organisations, trade unions and charities.
NGO and INGO registration at Tahmidur Rahman TLS:
The legal team of Tahmidur Rahman, TR Barristers in Bangladesh TLS are highly experienced in providing all kinds of services related to registering NGO, non profit and charitable trust in Bangladesh . For queries or legal assistance, please reach us at:
E-mail: [email protected]
Phone: +8801847220062 or +8801779127165
Address:
Have a Different Question?
Tahmidur Rahman | Law Firm in Dhaka
Affiliated with TR Barristers in Bangladesh, A full service multi-directional law firm in Dhaka.
© 2018-2020 Tahmidur Rahman Matte IT Ltd.
Privacy Policy
Disclaimer
Client Login
Sitemap