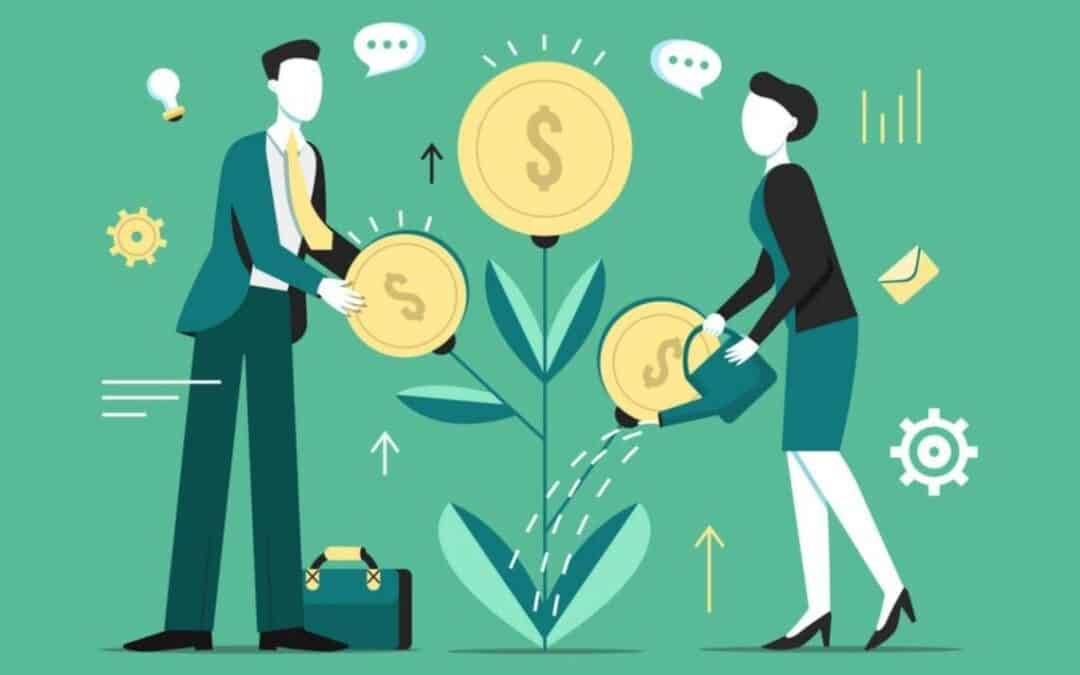 How to invest in Bangladesh | Direct, Angel, Rules, Policy- Everything you need to know about Foreign Investment in 21st century Bangladesh
Tahmidur Rahman
 Director and Senior Associate, Counsels Law Partners
Leading up to initiating a major investment , investors needs to navigate the basic legal policies on investment law in Bangladesh. Bangladesh is one of the easiest countries in the world to do business with straightforward regulation, a well-respected legal system and low entry barriers. Entrepreneurship is also massively respected and encouraged in the country. Despite this welcoming atmosphere and a lack of red tape, difficult choices and decisions need to be taken at an early stage, and this article describes everything you need to know about investing in Bangladesh.

Foreign Investment Policy in Bangladesh
The Government of Bangladesh has put in place a wide range of policies aimed at bringing substantial socio-economic changes to the citizens of Bangladesh and, eventually, self-reliance to the country. In recognition of the capacity of the private sector to contribute to the achievement of these objectives, the government has recently initiated a number of major policy reforms, which are planned to create a more transparent and competitive environment for foreign investment in Bangladesh.
In order to achieve the goal of accelerating industrial growth and increasing the share of industry in the Gross Domestic Product ( GDP) and to make industrial policy sensitive to changes in the global economy, the current government announced an Industrial Policy in 1999.
The core characteristics of the 1999 industrial strategy are as follows:
To draw foreign direct investment in Bangladesh,  both export and domestic market-oriented industries to compensate for the lack of domestic investment opportunities and to acquire emerging technology and to gain access to export markets.
To ensure the sustainable growth of industrial jobs by promoting investment in labour-intensive manufacturing sectors, including investment in productive small and cottage sectors.
Diversifying and increasingly increasing the production of manufacturing.
Coordinate economic and fiscal policies to inspire a growth in foreign investment in Bangladesh.
Promote the competitive strength of import substituting industries for catering to a rising domestic market.
To increase the production base of the economy by increasing the pace of industrial investment.
Promote the private sector to drive the development of industrial production and investment.
Emphasis on the role of the government as a facilitator in creating an enabling environment for the expansion of private investment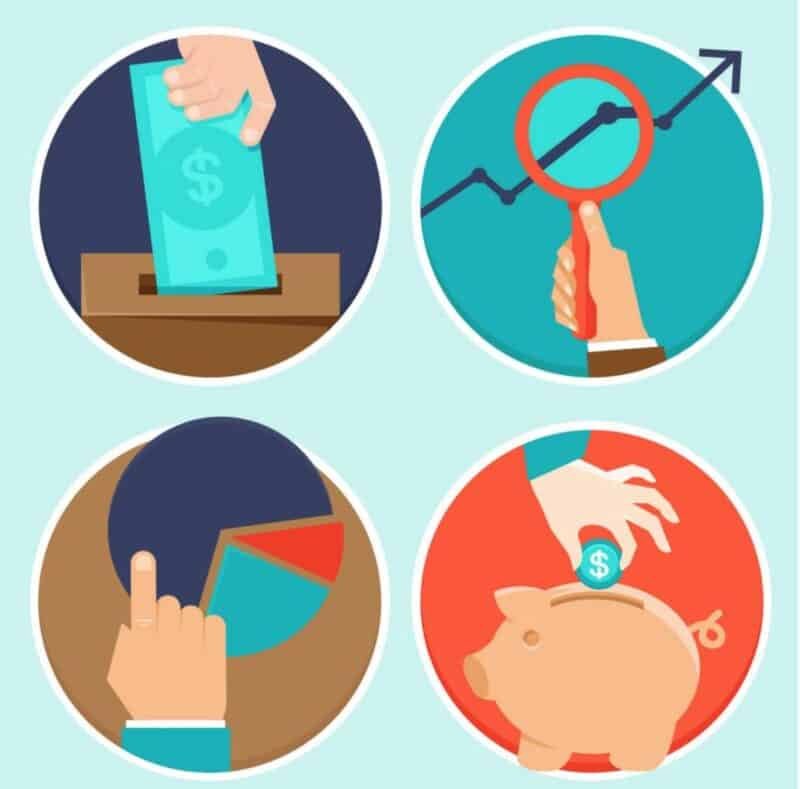 Investment Structures in Bangladesh
Bangladesh offers generous opportunities for investment under its relaxed Industrial Policy and export-oriented, private sector-led growth strategy. Except for the previously stated reserved sectors, foreign investors are free to make investments in Bangladesh in industrial enterprises. Foreign companies wishing to do business or establish a presence in Bangladesh have a number of options.
1.  Foreign Direct Investment
FDI (foreign direct investment in Bangladesh) in industrial or construction projects must be registered with the Bangladesh Investment Development Authority (BIDA). BIDA, formerly known as the Investment Board, was formed by the Bangladesh Investment Development Authority Act 2016 to deal with issues related to FDI and to promote investment in Bangladesh. The foreign direct investment (FDI) inflow at the end of June 2018 amounted to USD 2.58 billion (foreign investment in Bangladesh stats, Bangladesh bank).
The Bangladesh Investment Development Authority (BIDA) announced an impressive 13.34% rise in FDI in the third quarter of 2018, receiving proposals worth USD 3.23 billion over the same period, suggesting strong interest on the part of foreign investors.
The key objective of BIDA is to encourage domestic and foreign investment as well as improve Bangladesh's international competitiveness. BIDA also provides the necessary facilities and assistance for the establishment of industries. Determining the route of investment usually depends on the specific sector and the policy of the FDI adopted by the Government in regards to foreign investment in Bangladesh.
2. Wholly owned subsidiaries in Bangladesh
Foreign companies are allowed to create wholly-owned subsidiaries in Bangladesh. Such companies may be known as private limited or public limited companies. Foreign equity ownership can be up to 100% in most sectors, including construction, information technology and production.
Foreign entities can acquire an existing Bangladeshi company or incorporate a new company that complies with the requirements of the Registrar of Joint Stock Companies and Firms (RJSC). Subsidiaries are entitled to remit dividends reported on income after tax.
3. Joint Ventures in Bangladesh
As with wholly-owned subsidiaries, international companies can have joint venture companies with Bangladeshi partners. The equity ownership of a foreign corporation would depend on the sector in which it is invested.
If you want to know everything about Branch office registration in Bangladesh!
4. Branch or Liasion offices in Bangladesh
International companies can also create a presence in Bangladesh through a representative office, liaison office or branch office for the purpose of foreign investment in Bangladesh. Typically foreign companies that do not have local earnings in Bangladesh may choose to set up representative offices, liaison offices or branches.
The operations of these organizations are limited to those set out in their BIDA approvals and are subject to strict compliance with the foreign exchange regulations. Generally, no outward remittance of any kind from Bangladesh is allowed unless expressly approved by the Foreign Exchange Regulations or the Bangladesh Bank.
fSuch offices are expected to pay inward remittances of at least USD 50,000 within two months from the date of establishment as a cost of establishment. One of the requisite approvals for the establishment is that security clearance must be obtained from the Ministry of Home Affairs of the Government of Bangladesh. (foreign investment in Bangladesh)
5. Option of Participating in an existing Bangladeshi company by purchasing shares
In regards to foreign investment in Bangladesh, Foreign investors are free to invest in local companies in Bangladesh unless expressly prohibited (as stated above). Shares can also be given to foreign investors against capital machinery brought by them to Bangladesh (subject to confirmation by the Customs and Excise Office of the import documents).
If you want to know how to open a company in Bangladesh or about company formation click here!
Step by Step Process of Registering a Company in Bangladesh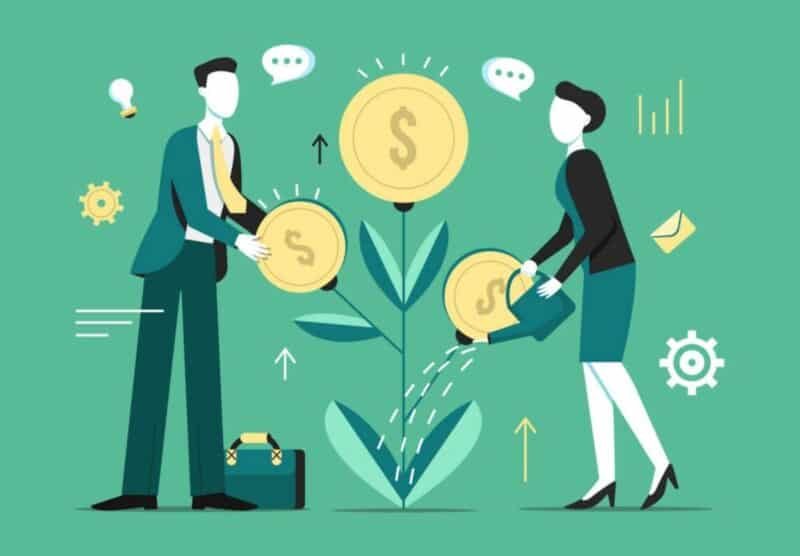 Right to Issue and Transfer Shares in Bangladesh
There is no need for permission from the Bank of Bangladesh to set up such ventures if the entrepreneurs use their own funds. Prior approval of the Central Bank is not necessary for the issuance of shares in favor of non-residents against foreign investment in BD.
Shares may be issues relating to freely convertible foreign exchange brought in from abroad via the banking channel or to the importation of capital machinery or the combination of both.
Foreign exchange thus entered must be paid out in taka before the issuance of shares, except in the case of Type A (full foreign owned) and Type B (joint venture) units of EPZ and EZ, where FC 's foreign bright equity of be held in the FC accounts of the units concerned.
Transferring shares and securities in Bangladesh from one shareholder to another shareholder regardless of their nationality / residence does not require approval from Bangladesh Bank.
In the event of a transfer of private / public (non-listed) shares between resident-non-residents or vice versa, a general intimation to Bangladesh Bank is required by the Approved Bank within 14 days of such a transaction.
As there is no established marketplace for such investment in Bangladesh, Bangladesh Bank will accept fair value of the shares as on the date of sale based on a reasonable combination of three valuation approaches (NAV; FMV and DCF), depending on the nature of the company in regards to foreign investment in Bangladesh.
If you want to know everything about Share Transfer process in Bangladesh!
Full Repatriation of Dividend, Investment and Income
It will enable complete repatriation of the capital invested from free sources in regards to foreign investment in Bangladesh. Profits and dividends accruing to foreign investment can likewise be transferred in full. Those would be considered as new investment if foreign investors reinvest their reparable dividends and/or retained earnings. Foreigners living in Bangladesh have the right to remit up to 50 percent of their income and can enjoy facilities for complete repatriation of their savings and pension benefits. (foreign investment in Bangladesh.)
Laws for the Protection of Foreign Investment in Bangladesh
The government guarantees immunity from nationalization and expropriation through the 1980 Foreign Private Investment Act that involves repatriation of capital and dividend for foreign investors. In addition, Bangladesh has made ample legal provisions to secure intellectual property rights. In addition to the 1980 Foreign Private Investment Act , the government has developed an FDI Policy (Foreign Direct Investment Policy), which supports easy but efficient investment mechanisms in Bangladesh.
The policy encourages the establishment of enterprises by simplifying the leasing and purchasing process of private property, forming an agency, enabling corporate tax holidays for 7 years (15 years in the power sector) and in some respects introducing an exemption of foreign employees' income tax for up to 3 years.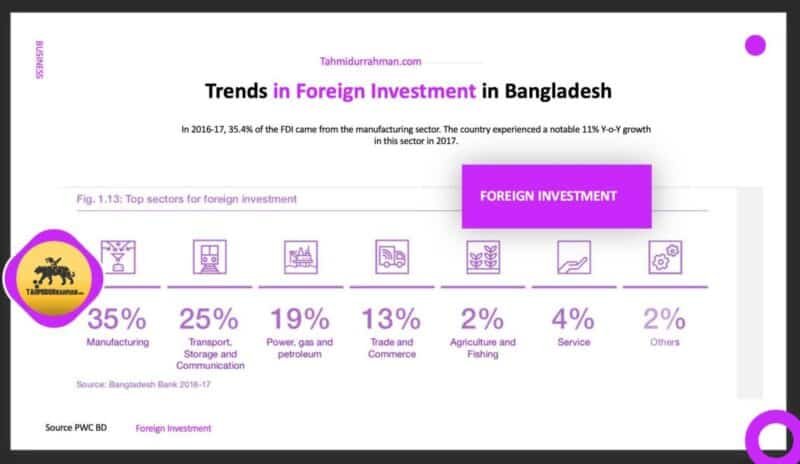 Disputes Settlement in regards to Foreign Investment in Bangladesh
In dispute cases alternative conflict settlement is possible under the 2001 Arbitration Act. The Bangladesh International Convention on the Recognition and Compliance of Foreign Arbitral Awards was signed. Bangladesh is also a member of International Centre for Investment Dispute Settlement (ICSID).
The new law also provides for the implementation without much hindrance of international arbitral awards. Although venturing in a company may be overwhelming, Bangladesh offers investors a safe and resourceful environment suitable for establishing or expanding any company, and it can be said that Bangladesh is in fact a "dream investment destination," after much consideration.
Visa, Work Permit, Citizenship in Bangladesh
For periods ranging from one month to five years prospective foreign investors may apply for visas. Foreign workers must get BIDA / BEZA / BEPZA work permit.
In an industrial organization the number of expatriate workers can not exceed the ratio of 1:20 (foreign: local) for industrial settings and 1:5 (foreign: local) for commercial establishments. Citizenship in a scheduled bank may be subject to investment of USD 1 million or a fixed deposit of USD 2 million. Investors can also get 'NO Visa Requirement' exemption for investment of more than USD 10 million.
If you want to know more in details about Visa obtaining process in Bangladesh
"Counsels Law Parnters is Considered as one of the leading Investment Law Firms in Dhaka, Bangladesh"
Incentives offered to Foreign Investors in Bangladesh
Bangladesh is keen to boost the economy in a short time and turn the poverty-stricken economy into a developed one. Government investment strategy provides competitive stimulus packages to attract foreign investment. These incentives are updated annually and new incentives are announced, too. These installations are subject to certain conditions and are issued by the BIDA. Moreover, Bangladesh gives international investors citizenship, permanent residency and multiple entry visas for their ease of business.
Investing in the Stock market in Bangladesh
International investors are eligible to engage in Initial Public Offerings ( IPOs) without regulatory restrictions. In addition , capital gains from listed securities are tax-exempt for private investors and lower tax rates apply to corporations and other organizations.
Import Duty exemption in Bangladesh
No import duties are applicable for export-oriented sectors. There are duty exemptions also for some preferred sectors. General exemption of import duties is also available in respect of import of specific Plant & Machinery and spares.
If you want to know everything about Immigration and Citizenship in Bangladesh read this articl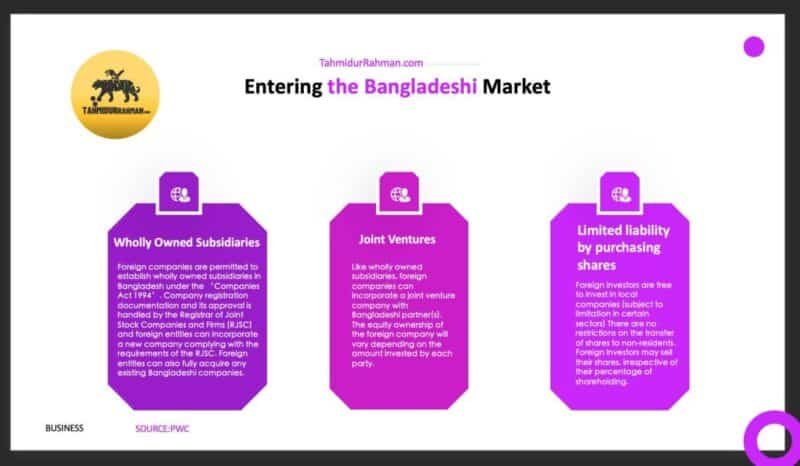 Allowance of Capital repatriation in Bangladesh
Full repatriation of invested capital, profits and dividends is allowed, subject to applicable taxes.
Tax holiday facility in Bangladesh (THF)
Tax holidays are granted to industries subject to the relevant rules and procedures laid down by the National Revenue Board of Bangladesh (NBR). This may vary from 3 to 7 years depending on the location of the establishment. For example, industries located in the Dhaka and Chittagong Divisions (excluding three Hill Tract districts of the Chittagong Division) are exempted for a period of five years.
This tax holiday scheme, which was scheduled to end in 2015, was extended until June 2019 to create an investor-friendly atmosphere in Bangladesh. Tax holiday facilities are also available to manufacturing units and economic zone developers for a period of 10 years and 12 years respectively.
Special Tax Exemption for the foreign investors in Bangladesh
Tax exemptions are commonly permitted in the following cases:
There will be scope of tax exemption on royalties, technical know-how fees earned by any international partner, business, company and expert;
Reasonable income tax-upto-threeyearsforeign technicians working in industries as defined in the respective schedule of income tax regulations;
Relevant revenue of a private corporation conducting public infrastructure projects;
In regards to capital gains from the sale of shares of limited public company listed on the stock exchange;
NGO reported with the NGO Affairs Bureau;
Reasonable profits of companies and other sectors defined in the income tax Ordinance
Depreciation allowance in regards to Tax
Depreciation allowance shall be allowed in respect of any house, equipment, factory, furniture, bridge, road or overhead used in any company or industrial undertaking in the measurement of income or gains. The third schedule of the Income Tax Ordinance 1984 sets out a list of various types of properties and their corresponding depreciation allowance rates, which usually range from 10 % to 30% of costs. The plan also sets out the overview of the usual rate of depreciation allowance, the original rate of depreciation allowance and the accelerated rate of depreciation allowance for various asset groups.
If you want to know more in details about tax submission in Bangladesh click here!
Avoidance of Double Taxation for Foreign Investors
Double taxation for international investors can be avoided on the basis of the Bilateral Double Taxation Avoidance Treaties (DTTs). NBR is responsible for negotiating Double Taxation Agreements (DTAs) with foreign countries to facilitate FDI in Bangladesh. The DTA is an arrangement between two countries that aims to prevent double taxation by specifying the taxing rights of each country with respect to cross-border income flows and providing for tax credits or exemptions to remove double taxation. It also allows for the exchange of information between treaty partners on tax evasion. For instance, Bangladesh has double taxation treaties with  Denmark, France, Germany, Belgium, Canada, China, India, Italy, Japan, Poland, Romania, Singapore, South Korea, Sri Lanka, Sweden, Thailand, The Netherlands, The United Kingdom and other countries.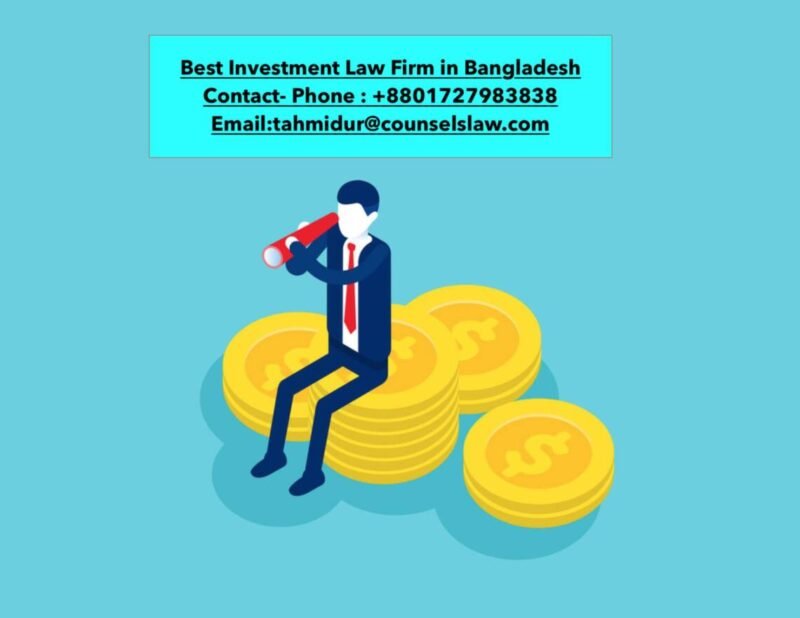 Remittance of profits for foreign investors in Bangladesh
Remittance of income of subsidiaries of foreign companies / companies, dividends / capital gains, wages and savings of expatriates, royalties and technical fees, training and consulting fees, receivables obtained by shipping companies and airlines for freight and transit can be made by approved dealers without the prior approval of the Bangladesh Bank. Global entrepreneurs are also entitled to the same facilities as domestic entrepreneurs with regard to tax holidays, dividends, technological know-how fees, etc.
Business profits and tax exemption for foreign investors in Bangladesh
The income of an enterprise of a Contracting State shall be taxable only in that State unless the enterprise carries on business in the other Contracting State through a permanent establishment situated therein. If the enterprise carries on business as mentioned above, the benefit of the enterprise may be taxed in the other Contracting State, but only in so many cases as is due to that permanent establishment. (Article 7 of the Double Taxation Agreement).
Dividends and tax exemption for foreign investors in Bangladesh
Dividends paid by a company resident in a Contracting State to a resident in the other Contracting State may be taxed in the other State. However, such dividends may also be taxed in the Contracting State in which the corporation paying the dividends is resident and in compliance with the laws of that State, but where the beneficiary is the beneficial owner of the dividend, the tax paid shall not exceed 10% of the gross sum of such dividends (Article 10 of the Double Taxation Agreement).
Interest arising from contract state for investors
Interest occurring in a Contracting State and charged to a citizen of the other Contracting State may be taxed in another State. However, such interest may also be taxed in the Contracting State in which it exists and in compliance with the laws of that State, however if the beneficiary is the beneficial owner of the interest, the tax so paid shall not exceed 10% of the gross sum of the interest.(Article 11 of the Double Taxation Agreement).
Capital gain derived by a foregin resident
Gains obtained by a resident of a Contracting State from the alienation of immovable property referred to in Article 6 and situated in the other Contracting State may be taxed in that other Contracting State. (Article 13 to prevent a double taxation agreement)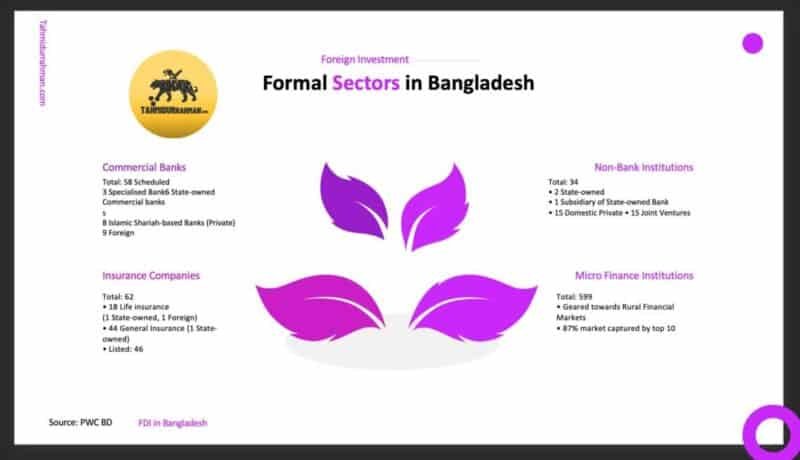 Repatriation of investment in Bangladesh
Full restitution of the capital accumulated from foreign sources is permitted. Likewise, the gains and dividends accrued on foreign investment can be transferred in full. If foreign investors reinvest their repatriable dividends and/or retained profits, they will be considered as new assets. Foreigners living in Bangladesh are required to pay up to 75% of their wages and will benefit from complete repatriation of their savings and retirement benefits. In order to allow full repatriation of the capital invested, benefit and dividend, foreign investors will have to apply for repatriation approval from the Bangladesh Bank through an approved bank. 
Foreign Private Investment (Promotion and Protection) Act, 1980, section 8 also states:
(1)  In respect of foreign private investment, the transfer of capital and the returns from it and, in the event of liquidation of industrial undertaking having such investment, of the proceeds from such liquidation is guaranteed.
(2)  The guarantee under sub-section (1) shall be subject to the right which, in circumstances of exceptional financial and economic difficulties, the Government may exercise in accordance with the applicable laws and regulations in such circumstances.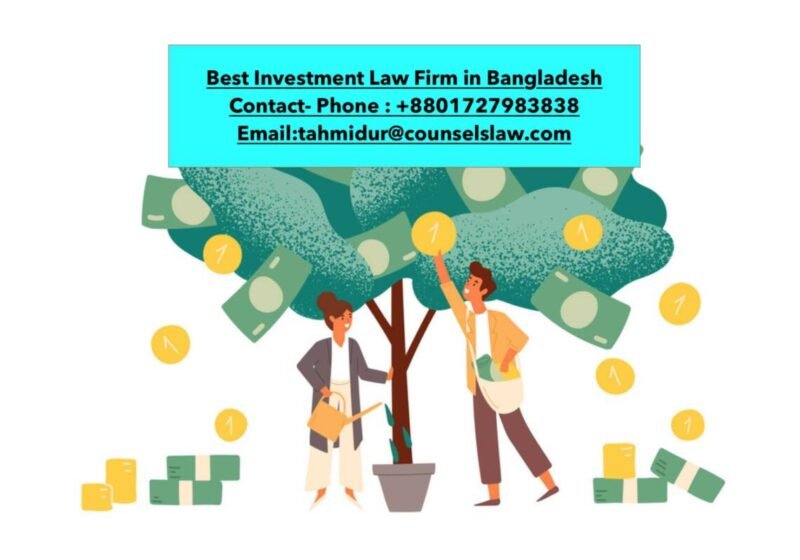 List of online portals for potential investors in Bangladesh
If you want to know how to Obtain a Trade License in Bangladesh click here!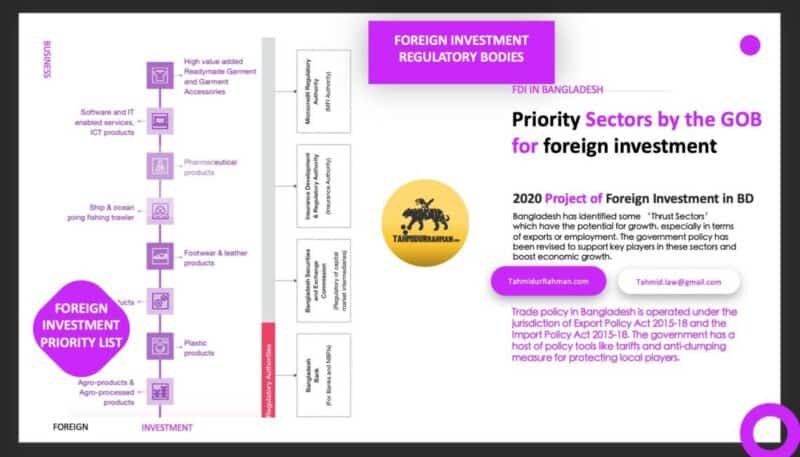 Elimination of Taxation treaty in Bangladesh
In double taxation the following shall be eliminated:
(a) If a resident of China receives income from Bangladesh, the amount of tax on that income payable in Bangladesh in compliance with the terms of this Agreement may be credited against the Chinese tax levied on that resident. However, the amount of the credit shall not exceed the amount of Chinese tax on that income determined in accordance with China's tax laws and regulations.
B) where the revenue received from Bangladesh is a dividend paid by a company resident in Bangladesh to a company resident in China and holding not less than 10 per cent of the shares of the company paying the dividend, the credit shall take into account the tax paid to Bangladesh by the company paying the dividend for its revenue.
Bilateral Investment treaties in Bangladesh
Bangladesh has with many nations, including China, signed Bilateral Investment Treaties (BIT) and Trade Agreements (TA). Typical provisions contained in BITs are clauses on foreign investment protection and treatment standards which usually address issues such as fair and equal treatment, full protection and security.
Provisions on reimbursement for damages suffered by foreign investors as a result of expropriation or as a result of war and dispute are typically a central part of such agreements as well. Most IIAs also control the moving of funds across borders in connection with foreign investment. 
The BITs also contain a clause on dispute resolution between investor and state. Usually this allows investors the right to bring a lawsuit to an international arbitral tribunal if a dispute occurs with the host country.
The International Center for Settlement of Investment Disputes (ICSID), the United Nations Commission on International Trade Law ( UNCITRAL) and the International Chamber of Commerce (ICC) are common places in which arbitration is sought.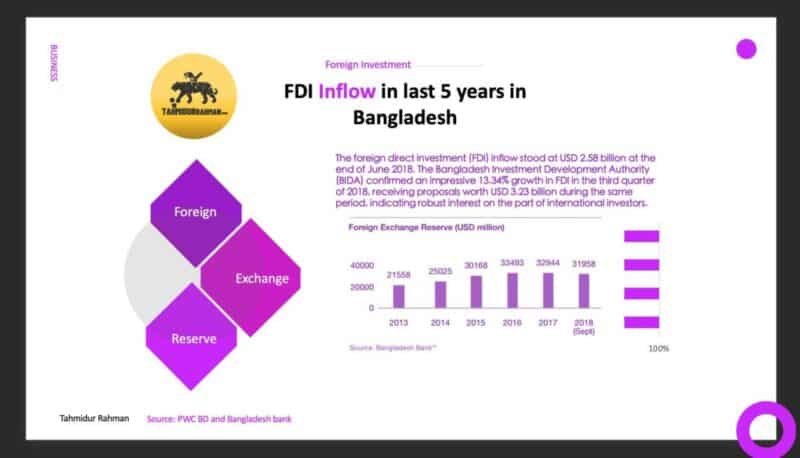 Funding options for foreign investors in Bangladesh
Foreign entities can conveniently access funding for short- and long-term investments from local financial institutions, including working capital loans, syndication, and trade finance. In addition, some of the Foreign Institutions (FIs) at home and abroad have access to on-shore and off-shore funding.
There are currently 58 planned commercial banks in the financial sector, as well as a host of Non-Bank Financial Institutions (NBFIs) and specialized financial institutions.
In addition to raising debt-based funding, investors may also consider securing equity-based capital-market financing from the country.
Raising Capital from the Equity market in Bangladesh
International companies can start raising capital from the stock market, subject to fulfillment of certain terms and conditions. The government is keen to increase the number of companies listed on the local stock exchange, and offers regulatory incentives to attract profitable businesses.
Listed firms pay 25 per cent corporate taxes on non-listed entities, excluding those markets, compared with 35 per cent tax limit.
Formal approval from the Bangladesh Securities and Exchange Commission (BSEC) is required for the fundraising process. Companies may use either the fixed price, or the option of constructing books.
The appointed merchant bank and auditor help prepare a prospectus under the fixed-price process, valuing the business based on current assets and prospects for future growth. The indicative stock price is determined and has to be certified by the regulator.
The method of book building involves a designated merchant bank to prepare an indicatively priced prospectus. The contending business then holds a series of road shows in which institutional investors are invited to bid on their stocks. IPO share price is dependent on input from other institutional investors and their interests. 
The DSEX listing process has the mandatory requirement that an Issue Manager be employed or named (approved by the DSEX). The way IPOs are determined needs support from the approved Issue Manager.
The draft prospectus shall be prepared in compliance with the Regulations of an Issue Manager and the Securities and Exchange Commission (Public Issue), 2015. IPOs can be issued by either book building or fixed-price system.
Debt capital from local commercial Banks in Bangladesh
International investors have access to financing for the local debt. Trade finance, term loans, and working capital are readily accessible to large foreign investors, in particular.
Interest rates are low for such loans and between 9-16 per cent. Bangladesh has a very large number of  State and commercial banks (as stated in the preceding section), and bank loans can be obtained against collateral secured.
Private Foreign Commercial borrowing in Bangladesh
To secure long-term foreign currency loans, a request must be sent to BIDA, which will then be forwarded to the Central Bank for further review.
To secure the loans, a business case supporting the loan condition must be included in the application. The proposal, along with the business case, is submitted for evaluation and decision by a committee chaired by the Bangladesh Bank Governor including members from BIDA, PMO Ministry of Finance.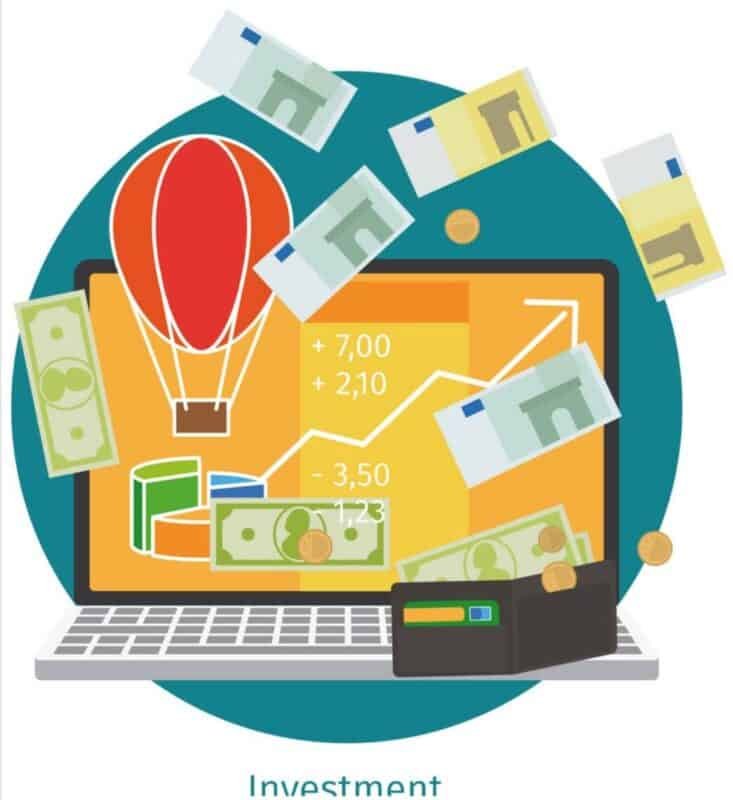 Regulatory institutions facilitating investment in Bangladesh
The investment route depends on the business sector and on the FDI policy introduced by the Government of Bangladesh. The following government and trade agencies would oversee and encourage investment in most sectors;
The Bangladesh Investment Development Authority (BIDA), Formerly known as the Investment Board (BOI), has been set up to deal with local and foreign investment issues. All incoming investments must be pre-approved by BIDA. The regulatory body aims to encourage domestic and foreign investment by simplifying the bureaucratic complexities of entering the Bangladesh market. 
Bangladesh Bank ( BB) is the central bank of the country. The central bank must be officially informed of any foreign transactions, including equity investments made on the stock market. All incoming investments shall be reported to BB via commercial banks.
Relevant trade bodies and chambers in Bangladesh
The Dhaka Chamber of Commerce and Industry (DCCI) is a non-profit, service-oriented chamber serving as the first point of contact for small and medium-sized enterprises. DCCI offers market-oriented inputs to imports , exports and investments throughout the government's policy formulation period.
The Chamber periodically publishes guidebooks to promote trade and investment. DCCI also has its own training facility to facilitate the growth of capability of professionals associated with member organizations.
The International Investment Chamber of Commerce and Industries (FICCI), founded in 1963, is made up of 188 members across the mining, service and manufacturing sectors. Classified as Class 'A' Chamber of Commerce, FCCI is affiliated with the FBCCI, the International Trade Center (Geneva) and the World Trade Organization (Paris).
The Metropolitan Chamber of Commerce and Industry (MCCI) is a leading chamber body made up of representatives of major local and multinational corporations. The MCCI maintains frequent ties with major international trade organizations and global private sector organizations. (foreign investment in Bangladesh)
Exit policy for foreign investors in Bangladesh
An investor can terminate an investment either by a decision of an annual or an extraordinary general meeting. Once a foreign investor has completed the formalities to leave the country, he or she can repatriate the net proceeds after obtaining proper authorisation from the central bank (Bangladesh Bank).
Frequently Asked Questions about Foreign Investment in Bangladesh
In regards to Foreign Investment in bangladesh people also ask these questions frequently, hence this FAQ content block is dedicated to answering your questions.
General Questions about Foreign Investment in bangladesh
Which Countries invest the most in Bangladesh?
The country's major investors are China, South Korea , India, Egypt, the United Kingdom , the United Arab Emirates and Malaysia. According to the most recent data available from Bangladesh Bank, FDI flows increased by 5.36% to USD 1.65 billion in July-October 2019 per year.
How is the Investment Scenario in Bangladesh in 2020?
Bangladesh is already recognized as a thriving investment hub, reflected in influxes of foreign direct investment ( FDI) from the region. Bangladesh 's FDI amounted to USD 2.58 billion at the end of June 2018.
According to the Bangladesh Investment Development Authority (BIDA), there was a 13.34% rise in FDI in the third quarter of 2018, with proposals worth USD 3.23 billion in the basket. Mega-projects by the government is seen as the primary explanation for significant FDI investments in  Transportation, transportation , and communications. Exports from the country are also growing amid domestic consumption.
What is an example of Foreign Direct Investment in Bangladesh?
Examples of foreign direct investment in Bangladesh include, but are not limited to, mergers, acquisitions, retail, utilities, logistics, and development. Foreign direct investment and the laws that regulate it can be critical to the growth strategy of a business.
What are the types of foreign Investment?
Examples of foreign direct investment in Bangladesh include, but are not limited to, mergers, acquisitions, retail, utilities, logistics, and development. Foreign direct investment and the laws that regulate it can be critical to the growth strategy of a business.
What is the current trend of foreign investment in Bangladesh?
35.4 per cent of the FDI came from the manufacturing industry in 2016-17. The country witnessed phenomenal Y-o – Y growth of 11 per cent 2017 In this area. Experts in industry are optimistic this development will be maintained in the years to come. The sectors of transport , storage and communications ranked second with FDI inflows of 25 per cent.
This may be due to the mega projects being initiated and executed by the government at the present time. Over the time, electricity, accompanied by gas and petroleum, attracted FDI of 19 per cent. Over the years, the power sector has steadily drawn foreign investments due to the Government 's attractive tax incentives.
How Foreign investors can enter into Bangladeshi Market?
Foreign investors may either form a wholly / partially owned subsidiary, or set up a branch or liaison office for Bangladesh operations. The type of organization that was created will rely on the medium- and long-term strategy of the investor for market penetration. Hence the three conventional ways of entering the Market in Bangladesh:
Wholly owned subsidiaries
Limited liability by purchasing shares in an existing Bangladeshi company
Joint ventures
How to get work permit and visa as a foreign investor in Bangladesh?
For investors planning to become resident in Bangladesh by taking a full-time position or for the company's expatriate employee, branch office, liaison office, work permit is required.
Upon arrival in Bangladesh for a short period of time under two types of visa, the person is required to apply for a work permit with BIDA and an extension from the Passport and Visa Department, subject to effective completion of the security clearance.
If not treated skillfully, the process can be very hectic, and time consuming. We help our customer make it easy and hassle-free. We also help our client locate commercial addresses needed for trade license and clearance of protection.
How to open a Liaison or Branch office in Bangladesh?
Opening Liaison office requires some critical preparatory work and documentation work which requires experience. We have significant experience of getting BIDA  registration for both liaison and branch office for several foreign principals.
Legal documentation involves authentication of parent company's Memorandum and Articles of Association, list of directors etc. Often the authentication process is cumbersome.
We try our best to make the process smooth and hustle free. In recent time we have opened several branch and liaison offices for construction and engineering companies whose principal is located in Italy, UK, China, Singapore and other neighboring countries.
What is SEZ or Special Economic Zone in Bangladesh?
In Bangladesh, economic zone is a relatively new term. The government intended to establish 100 economic zones in various geographical locations.
However, as the land is still under development process, only a handful of economic zones are currently allocating property, or will do so in the near future. Mirsarai Economic Zone for example.
Our customer can take our service from the Bangladesh Economic Zones Authority (BEZA) to conduct due diligence on land in the economic zone. We also provide legal due diligence services for lands adjacent to the Mirsarai Economic Zone which is ready for immediate investment
How to get permits and consents as a foreign investor in Bangladesh?
Often the client carries out due diligence on the number of permits and approval necessary and the time period. The type of permits and consent required depends largely on the type of industry, the business venture, its location and the planned Bangladesh activity.
The Chambers offers all basic licensing services such as business registration, liaison office approval, branch office approval, trade authorization, export and import permit, chamber and trade membership, work permit, bank account opening, IRC, ERC, ad hoc IRC, BIDA registration, BIDA recommendation, etc.
We can help with other licenses or permits. We either do it ourselves or outsource it from our established service providers and vendors
What is EPZ or Export Processing Zone in Bangladesh?
Export Processing Zone is ideal for wholly owned export-oriented companies, if it is a Joint Venture, etc. 08 (eight) EPZs are geographically diversified in various locations within Bangladesh.
Depending on the nature of the company, availability of utilities, rental rates, transportation, availability of qualified man power, etc. Customer may choose acceptable EPZ to invest.
Interested customers can take advantage of our services to locate, lease, or move existing land leases from Bangladesh Export Processing Zone Authority (BEPZA).
How to do share acquisitions as a foreign investor in Bangladesh?
Share acquisition requires many paperwork works in an unlisted private and public corporation, e.g. signing Form 117, affidavits etc. In addition, in conjunction with the Memorandum and Articles of Association, several resolutions are required along with the drafting of the Share Purchase Agreements.
For the whole process, we counsel clients so that the transition is done smoothly. We also recommended buyer as well as seller to take over some businesses. We have also advised individual shareholder in the purchasing and sale of shares. Our service involves not only supporting documentation work, but also helping to actually record and receive a certified copy from RJSC
Foreign Direct Investment in Bangladesh at CLP:
The Barristers, Advocates, and lawyers at CLP in Gulshan, Dhaka, Bangladesh are highly experienced at dealing with foregin direct investment, where we assist clients in setting up of the complete business irrespective of whether it is within a specialized zone or any other part of Bangladesh. In Counsels Law Partners, our experience helps us to efficiently execute local and cross-border global transactions while helping you at all stages of the process and offering you cost-effective, realistic business solutions. In addition to handling various issues related to domestic clients on a regular basis, it also has experience in consulting and assisting numerous international clients with utmost care and attention throughout their legal exploration in Bangladesh. For queries or legal assistance, please reach us at:
 E-mail:tahmidur@counselslaw.com
Phone:+8801727983838
Address: House 39, Road 126 (3rd Floor) Islam Mansion, Gulshan 1, Dhaka.
Tahmidur Rahman | Law Firm in Dhaka
Affiliated with Counsels Law Partners, A full service multi-directional law firm in Dhaka.
© 2018-2020 Tahmidur Rahman Matte IT Ltd.
Privacy Policy
Disclaimer
Client Login
Sitemap